COVID Unmasks the Vulnerability of Struggling Neighbors
Pre-COVID, 25 percent, or 1 in 4 Paterson residents were already living below the poverty line – struggling to find adequate, stable jobs, safe living conditions and afford their basic household necessities. That doesn't count those considered "vulnerable" — working but financially hovering at the poverty line.
Their one staple: At school, their children could receive a free breakfast or lunch meal.
 
Fast forward to the COVID-19 quarantine and the resulting shut-down of in-person learning along with the loss of many minimum wage jobs — particularly among gym, hair salons and restaurant hourly workers.
No work. No school. No way to pay for rent, food, medical care, etc. As the impacts of the pandemic rippled through our community, the United Way of Passaic County focused its resources to respond in ways that helped four critical areas:
Image
Image

OUR IMPACT
Due to the generous support received through our COVID-19 Fund, the UWPC was able to provide grants as well as directly fund initiatives to help those in Paterson and the surrounding Passaic County area combat the increased hardships brought by COVID-19, specifically in the areas of Education, Food Security, Financial Aid and Community Support.
By the numbers, our efforts funded:
Image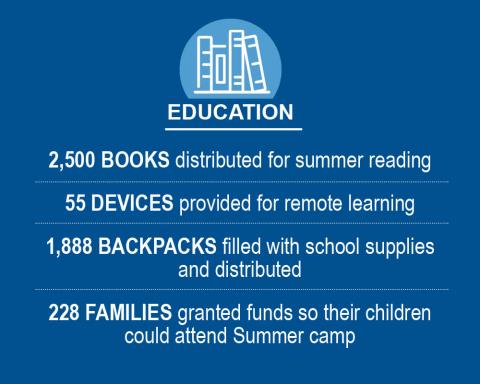 Image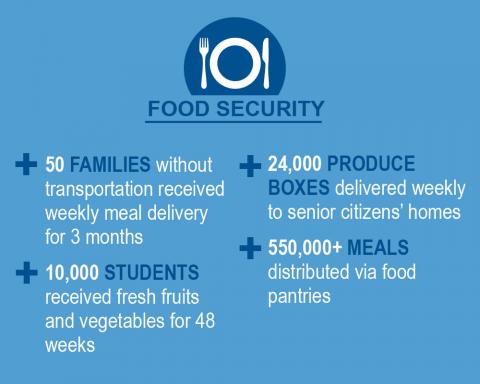 Image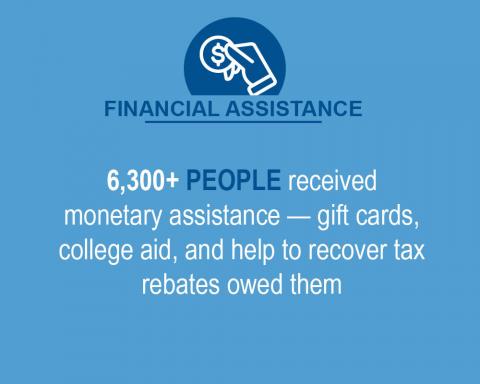 Image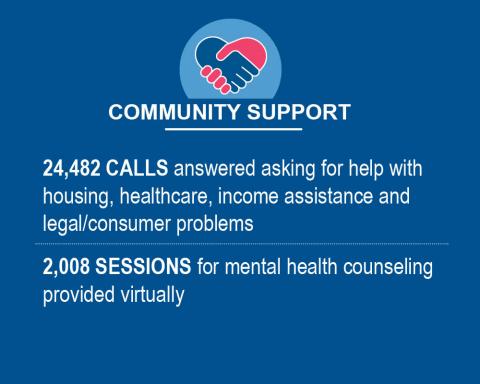 UWP COVID-19 RELIEF FUND
Thank you to the following partners for their financial contributions to the UWP Covid-19 Relief Fund:
•    L3Harris Technologies
•    NJ Pandemic Relief Fund
•    United Way Worldwide
•    UPS Foundation
•    NJ Health Initiatives
•    Volunteer Generation Fund – COVID Funding
The following organizations received grants from the UWP Covid-19 Relief Fund:
Image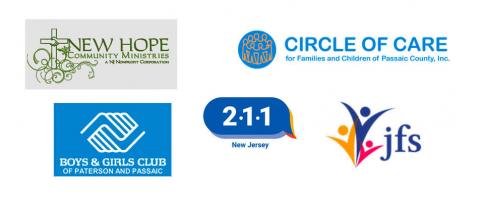 Image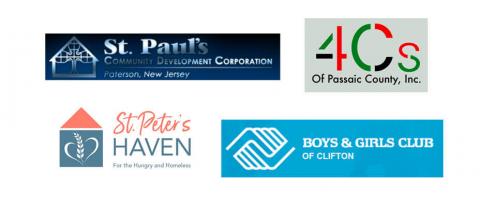 MOVING BEYOND COVID-19
As we look to the lessons learned from the impact of this global pandemic, we see that COVID-19 has put a spotlight on inequities in our community. Moving out of this pandemic, we must continue to address the many disadvantages faced by our neighbors, including:
Too many of our neighbors are experiencing financial instability, leaving them vulnerable to the next crisis.
Too many of their children are without reliable, affordable Internet access, wireless technology, and up to date devices at home.
Too many of our neighbors simply can't afford critical mental and physical healthcare services — and those that can, face the sobering fact that our neighborhood lacks an adequate number of local service providers.
Too many of our neighbors struggle to find affordable home housing and financially stable rentals.
Too many of our neighbors suffer from lifestyle factors that contribute to comorbidity within low-income populations
Too many of our working neighbors either can't find adequate quality childcare or face spending up to 30 percent of their income on child care expenses.
Please continue to contribute and support our critical relief efforts in Paterson and surrounding Passaic County.
Click HERE to donate now!
Image